Behind The Fence With Black Faceplate Modern Mailbox
SKU:
BTF-BF
Availability:
In stock products ship in 1-2 business days. For Out of Stock Items Contact info@boxdesignusa.com
Width:
9.80 (in)
Height:
14.40 (in)
Depth:
8.90 (in)
The Behind The Fence with Black Faceplate Modern Mailbox is made of the highest quality powder coated black 2mm aluminum. Original designs since the 1990's, Box Design mailboxes are made and tested in New Zealand and the elements of the Pacific Ocean. A sustainable and weather proof mailbox design you will grow to appreciate more over time. For over two decades, our unique one of a kind New Zealand designed modern mailboxes have stood the test of time. Box Design mailboxes are more than a mailbox.
Engage and embrace your letterbox and curb appeal. Box design mailboxes reflect your style, your family and your home. Choose a modern mailbox that fits your home design and architecture.
Behind the Fence Mailbox:
Measurements: 9.8" Wide x 14.4" Tall x 8.9" Deep (see below).
Waterproof with A4 magazine capacity.
Ideal to mount behind a fence, with powder coated faceplate for street frontage
Lock supplied with two keys for security.

Mailboxes with locks may be used and left unlocked.

Made in New Zealand from powder coated black 2mm aluminum & exterior ACM.
Shipping: We provide free shipping within the continental United States and Canada. In stock orders will ship within 1-3 business days by Fedex ground.
9.8" Wide 14.4" Tall 8.9" Deep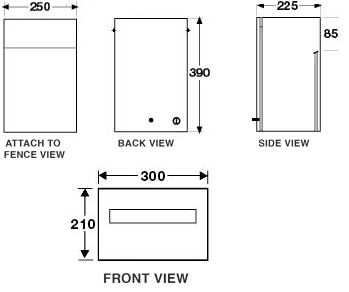 Faceplate: 11.8" Wide x 8.3" Tall
Simple to install. Sleek design. Solid and secure.
Not a copy but the original design by Kelly Hall, New Zealand, since 1999.